Sunday afternoon I made my youngest a new dress.  I had found a yard and a 1/4 piece of Cloud 9 Wildwood Pretty Posies in coral at SAS for a steal and had been saving it for something for one of the girls. The fabric is still available at fabric.com, just click the picture.
The pattern, Simplicity 8598 I bought in college to make a dress for a friends daughter.  I haven't used it since then, so it was like sewing it for the first time again.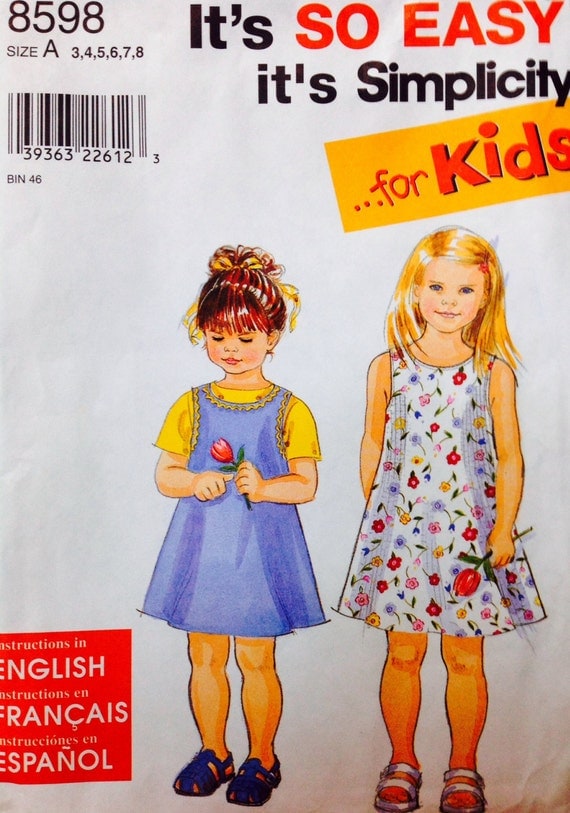 It is a very simple and quick pattern to make, only 4 pieces to cut out + interfacing. I cut out a size 5 for my daughter and the sides were really big on her, like she couldn't wear it without a tank top for modesty's sake.  I took the sides in by and inch on each side, I probably should have cut the bodice width at a size 3.
I used an invisible zipper so I omitted the top stitching over the zipper as per the directions.  I simply folded under the lining on the inside and tacked it to the zipper tape.  I did top stitch the armholes and neck.
I cut the length at a size 7 because I wanted it to below the knee. Because this dress has a slight bell curve hem, I strongly suggest cutting the dress to exactly 1/2″ longer than you want it to be hemmed.  Use single fold bias tape sewn on and flipped up to hem, it will help you avoid a wrinkled up hem.
Overall, this is a great starter pattern for someone who is trying to learn garment sewing, and at only $4 on etsy its too good to pass up.  The smallest dress requires only a yard of fabric and the largest (a size 8) requires only a yard and a half.
Have a pattern you'd like me to review?  Just leave me a comment and let me know!